2020 was an exciting time in both the PC and console world. We saw brand-new CPU and GPU releases from AMD and NVIDIA, but we also got the long-awaited next-gen consoles from Xbox and Sony.
These releases enjoyed significant performance improvements from their predecessors, generally thanks to the transition to a smaller (7nm) fabrication process from TSMC and Samsung.
TSMC already has a 5nm process in the works, and AMD plans to base its RDNA 3 and Zen 4 architecture on that. As a result, further performance improvements are expected.
Let's see what RDNA 3 GPUs will offer.
Why We Should Be Excited For RDNA 3
AMD was not exactly present in the flagship/high-end sector of the GPU market over the past several years. However, that exclusion from the high-end GPU sector ended with the RDNA architecture and the Radeon RX 5000 and RX 6000 series.
The RX 6900XT easily exchanges blows with the RTX 3090 in raw rasterization performance, and that's NVIDIA's fastest consumer GPU. Although lacking in ray tracing, these RDNA 2 GPUs still are a great choice.
The last time AMD provided a counter to NVIDIA was more than ten years ago in 2011, with the HD 7970 against the GTX 580 and GTX 680.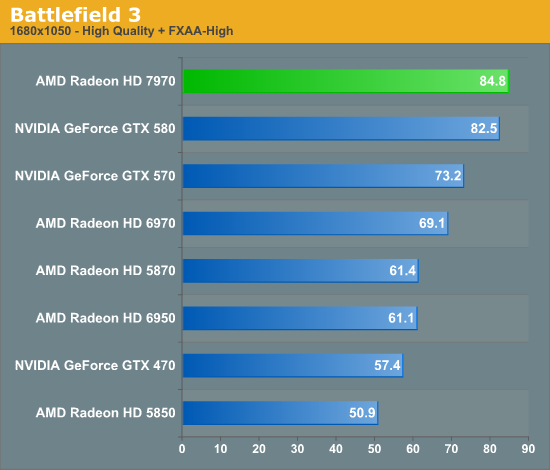 If AMD makes another competitive comeback with RDNA 3 to step up the rivalry, we should see a considerable improvement in price-per-performance from both companies.
These things are why we should be excited for RDNA 3.
Updates +
May 19, 2022: Another round of big changes to the article based on the news that Navi 31 will have a single GCD.
May 11, 2022: Added information on refreshed RDNA 2 and RDNA 3 in Phoenix APUs.
May 4, 2022: Revamped entire article in accordance with new specification information on RDNA 3, added new performance leaks, videos, and more.
April 22, 2022: Added some release date leaks.
April 12, 2022: Added more information on RX 7700 XT.
March 30, 2022: Grammar fixes.
March 24, 2022: Added RX 7700XT, RX 7900XT and Ada Lovelace performance leaks/guesses.
March 15, 2022: Added more release date information.
March 01, 2022: Small updates, nothing significant.
February 20, 2022: Writing fixes.
February 9, 2022: Added Lisa Su's reconfirmation on RDNA 3's release date and that AMD will secure a lot more GPU supply for 2022.
January 31, 2022: Revamped some sentences throughout the article for improved readability.
January 25, 2022: Added leak on potential Navi 21/22 GPUs as a stop-gap for RX 7000.
January 13, 2022: Added new information from CES.
December 22, 2021: Updated specifications on Navi 31, 32, and 33 based on greymon55's latest leak.
December 14, 2021: Added information about new Accelerator Processor Die.
December 6, 2021: General update, no new information.
November 29, 2021: Reworked price estimates.
November 22, 2021: Rephrased several sentences.
November 15, 2021: Added new information on RDNA 3's release date and modified text for improved readability.
November 12, 2021: Improved specifications table layout for better user experience.
November 8, 2021: Added rumor about 3D stacked Infinite Cache.
November 3, 2021: Added information about RDNA 3's tape-out.
October 28, 2021: Fixed a few grammar errors.
October 18, 2021: Added rumors about the PS5 Pro and the possibility of it using RDNA 3.
October 12, 2021: Changed wording for improved readability.
October 4, 2021: Added new changes regarding the core count of Navi 33.
September 27, 2021: Made a few changes, mostly fixed some grammatical errors.
September 20, 2021: Added rumors regarding the potential performance.
September 13, 2021: Added more release date information.
September 2, 2021: Added a table explaining the possible SKU lineup of RX 7000 and a new specification table of Navi 31, 32, 33 and 21.
August 18, 2021: Added new specification leaks and a block diagram detailing the Navi 33 chip.
July 28, 2021: Added some new leaks and removed some old ones to support AMD's drop of Compute Units and the switch to Work Group Processors.
June 23, 2021: Added more info on the release date and possible Zen3+ stop-gap solution.
May 10, 2021: Added information on the potential performance of RDNA 3 GPUs based on a popular leaker KittyYYuko.
April 6, 2021: Added official information claiming a 50% increase in efficiency.
Release Date
Official details on specifications and release date should be available middle of 2022.
For a more accurate release date, we'll have to take a look at recent leaks which suggest that both ZEN4 and RDNA3 will be released simultaneously in Q4 of 2022.
However, recent leakers like greymon55 share rumors that Nvidia and AMD will release their next-gen communication at the same time in September 2022.
We got another confirmation during AMD's Q4 2021 earnings call that RDNA 3 GPUs are definitely coming in 2022.
Lisa also mentioned that AMD is making a lot of investments to ensure they can satisfy demand with enough supply and finally end the GPU market problems of 2020 and 2021.
We've been working on the supply chain really for the last four or five quarters, knowing the growth that we have from a product standpoint and the visibility that we have from customers. So in regards to [the] 2022 supply environment, we've made significant investments in wafer capacity, as well as substrate capacity and back-end capacity.


AMD CEO, Lisa Su – Q1 2022 AMD Earnings Call
Before RDNA 3 releases though, a couple of refreshed RDNA 2 GPUs are filling the GPU market void for 2022. These GPUs are the RX 6950XT, RX 6750XT, and RX 6650XT GPUs which were released in May of 2022.
These compete against NVIDIA's Ti variants like the 3090 Ti.
Of course, the performance difference between the old and new RDNA 2 GPUs is nothing significant. This is just a stop-gap before RX 7000 GPUs release, a step that prevents Nvidia from taking over the entire GPU market mindshare with their Ti variants.
Specifications
A new generation of the RDNA architecture on a 5nm fabrication process (from TSMC) sounds promising. It's exhilarating once we consider the potential performance and efficiency improvement.
Take the performance per watt increase between AMD's old GCN architecture and RDNA 1 as an example.
The imposing part of the RDNA architecture was the monumental 50% performance-per-watt leap from RDNA 1 to RDNA 2. As the architecture matures, performance and efficiency improve. Such an example is Intel's 14nm+++ arch).
AMD claims that another 50% leap is expected in this new generation of AMD GPUs too.
This new architecture will also be added to future Zen 4 (Phoenix) APUs which will have performance comparable to an RTX 3060M according to greymon55.
Just the rumor that AMD's integrated GPU may perform as well as Nvidia's mid-range dedicated laptop GPU is crazy enough. If this is true, we can expect much lighter gaming-capable laptops and even smaller form factor PCs.
For more specification-related information, check the Specifications Rumors heading.
Architecture
Multiple sources claim that Navi 3 will have a chiplet design or, more specifically, a multi-chip-module (MCM). This is a type of GPU we have never seen before. The only current such GPU is AMD's Instinct MI200 SKU for computing.
However, we have seen this same design in AMD's Ryzen processors. The chiplet design of their processors is their secret formula for the considerable increase in performance and physical cores.
Maybe this secret formula will also work with their RDNA 3 graphics cards.
However, the problem with this kind of chiplet design is the increase in latency.
For Ryzen, the solution was fast RAM which compensated for that latency. Unfortunately, this solution is not viable for GPUs and high latency can cause a severe downgrade in performance.
Still, the benefits of a chiplet design are worth it as it effectively reduces the price of a CPU almost by half.
Both SLI and Crossfire technologies always had issues with latency between multiple GPUs, and we now know that running GPUs in parallel is not optimal.
Because of this, AMD has devised a unique solution: an active bridge that connects all of the chiplets. The first GPU chiplet would also be connected with the CPU directly via the Infinity Fabric.
Additionally, greymon55 leaked that Infinity Fabric could be 3D stacked for RDNA3. This will double the Infinity Cache up to 512MB (for Navi 31).
Another exciting addition to RDNA 3 GPUs could be the supposed Accelerator Processor Die or APD. It seems that this new die will be stacked on top of the main GPU chiplet and will take a role in machine learning tasks.
This offloads tons of work for the primary GPU, allowing it to do regular rasterization while the APD can work on things like ray-tracing.
This information comes from a recent patent application publication by AMD.
Here are some images explaining how it all works:
Keep in mind that it is possible that this new technology might not end up on RDNA 3 GPUs.
Specifications Rumors
Rumors claimed that Navi 31, a GPU part of the RDNA 3 lineup, will have two chiplets with 80 CUs. However, AMD dropped the term CUs (Compute Units) entirely.
With Navi 31, AMD dropped the term Compute Units (CU) and switched to WGP or Work Group Processors. Another thing that would differentiate older AMD cards from RDNA 3 is the two-die setup.
So, two 5nm GCDs (Graphics Core Dies) paired with one 6nm MCD (Multi-Cache Die).
This diagram by Olrak29_ explained this well.
However, these leaks from October 2021 seem to be outdated because new rumors claim that all RDNA 3 cards will have only one GCD and about 20% less WGP.
This change isn't necessarily a bad thing. A multi-chip design definitely seemed like something that would break the monotony of the GPU industry.
But, if two GCDs introduce latency, high power consumption, or other issues, that's a good enough reason for AMD to abandon the idea. For now.
However, this multi-chip design is technically still in play. While Navi 31 will have one GCD, it will be paired with multiple MCDs on the same die as reported by 3DCenter.
So, Navi 31 will have 6 MCDs paired with 1 GCD while Navi 32 will have 4 MCDs. And Navi 33 will be monolithic (single-chip die).
Olrak29_ has provided us with another illustration of the new and alleged RDNA 3 chip configuration.
With 6 Shader Engines and just 48 WGPs, that's a total of 12288 streaming processors, quite a bit lower than what previous leaks reported. Still, that is double the cores compared to the RX 6900 XT (5120 SPs).
To compensate for the smaller number of cores, AMD could push clock frequency much higher (close to 3.0 GHz).
In addition to the increase in frequency, AMD may also add 512 MB of Infinity Cache on the Navi 31 chip. That's 4 times more cache compared to the RX 6900 XT.
This new piece of information makes a lot of older leaks obsolete. The expectations that Navi will have 3x performance over RDNA 2 seems too ambitious now.
SKU Name
Navi 21 (6800 XT, 6900 XT)
Navi 33 (RX 7600 XT?)
Navi 32 (RX 7700 XT?)
Navi 31 (RX 7800/7900 XT?)
Node
7nm
6nm
5nm + 6nm
5nm + 6nm
Chiplets
One –
Monolithic
1 GCD - Monolithic
1 GCD + 4 MCDs
1 GCD + 6 MCDs
Memory
GDDR6
8GB GDDR6
12GB GDDR6
16GB GDDR6 18Gbps
Memory Bus
256-bit
128-bit
256-bit
384-bit
Infinity Cache
128 MB
128MB
potentially 256 MB
256-512 MB
Shader Engines (SE)
4
2
4
6
Shader Arrays
1 per SE
1 per SE
2 per SE
2 per SE
Work Group Processors (WGP)
40
16
32
48
CUs
80
40
80 (per die)
120 (per die)
Cores
5120
4096
8192
12288
Release Date
December 2020
September/October 2022?
Mid 2023?
Early 2023?
With these new specifications leaks, Navi 33 ends up with considerably fewer SPs than the RX 6900 XT. But, with Infinity Fabric, 3D stacked cache, higher clock speeds, and ADP, Navi 33 might actually be faster.
Greymon55's latest leak also reports that Navi 31 will come with only 16GB of GDDR6 VRAM. We hoped for GDDR6X and maybe more VRAM.
Another thing to note is AMD's response to NVIDIA's DLSS feature, FidelityFX Super Resolution (FSR), which could provide a bit of extra performance for RDNA 3. Although, FSR does also work for NVIDIA GPUs.
Radeon Super Resolution is an alternative upscaling option for AMD GPU users.
Performance Rumors
We've seen frequent rumors about all the possible SKUs from RDNA 3 and its architecture, but we haven't seen much about potential performance increases over Ampere or RDNA 2.
At least we hadn't until Tom from Moore's Law Is Dead shared a few RDNA 3 and RDNA 4 whispers.
As seen in the image above, Tom expects a 90-130% performance increase from Navi 31 over Navi 21. A bit hopeful, especially after we discovered that RDNA 3 will have less SPs than expected.
However, this new MCM/Ryzen-like chiplet design might actually allow for such huge performance improvements.
That's not all, though.

Energy efficiency should improve, but total power usage is also going to be higher. In the image above, Tom from MLID mentions a power consumption between 375W and 450W.
Navi 32 will supposedly be at least 20% faster than the RX 6900XT. But, Navi 32 SKUs will probably release in early 2023.
Here's what Tom has to say about these Navi 31 and 32 early leaks in this video:
Our original assumptions were that these Navi 31 cards will stomp Nvidia, but, the new rumors that Ada Lovelace will be using TSMC's 4nm fabrication process instead of 5nm changed our vision.
Nvidia will definitely be very competitive throughout 2022, but that performance might come at very high power costs. So, AMD could be the GPU efficiency king for 2022.
SKU Rumors And Price Estimates
Another leak/speculation by 3dCenter.org suggests that AMD's RX 7000 SKUs will be a mix of RDNA 2 and RDNA 3.
Here's a table to help you understand the new lineup of GPUs.
Radeon RX 6000 series
Radeon RX 7000 series
Navi 31 (5nm + 6nm)
RX 7900 – between $1000 and $1500
Navi 32 (5nm + 6nm)
RX 7800 – between $600 and $1000
Navi 21 – RX 6800/RX 6900
$579/$1000
➔
Navi 33 (6nm)
RX 7700 – estimated at $450
Navi 22 – RX 6700
$479
➔
Navi 22 refresh or a 6nm refresh
RX 7600 – estimated at $350
Navi 23 – RX 6600
$379
➔
Navi 23 refresh or a 6nm refresh
RX 7500 – estimated at $250
Navi 24 – RX 6500
$200 (alleged)
➔
Navi 24 refresh or a 6nm refresh
RX 7400 – estimated at $150
Table explaining the SKUs of the next Radeon GPUs and possible refreshes
As seen in the table above, there will probably only be two or three "true" RDNA 3 cards, while the rest will be a refresh of the SKUs from the last generation.
All current leaks mention that Navi 31 and Navi 32 will use a combination of 5nm compute dies with 6nm I/O and Infinity Cache dies. Navi 33 will use 6nm.
Hopefully, this mix between 5nm and 6nm means better pricing for us.
When it comes to the above-mentioned refresh, we can't be sure whether it's just going to be a price drop combined with a frequency boost, or maybe the refresh will get an upgrade to 6nm.
Either way, with the current state of the GPU market, we welcome these kinds of price drops.