For a while, AMD has taken a back seat as NVIDIA established itself as the undisputed leader in the GPU marketplace.
However, now that AMD's RDNA 2 architecture has launched, many wonder if this is finally the move that will challenge NVIDIA and lead to an all-out GPU war where the consumers will end up being the real winners.
When AMD Navi launched in July 2019 with the Radeon RX 5700 XT and the RX 5700 GPUs, genuine excitement was in the air. AMD finally released something that could compete with NVIDIA's products, even if it was only in the mid-range.
We are pleased to say that all the speculation was true. AMD did have something up its sleeve and finally brought a competitive product to the market, one that would cause a reaction from NVIDIA.
Let's have a look at precisely what RDNA 2 has to offer!
Updates +
January 12, 2021: Added RX 6500 XT to the specification and price tables.
December 10, 2021: Added specification and price table and added new RDNA 2 GPUs.
April 19, 2021: Reworked the entire article to be fully accurate.
November 22, 2020: Updated the outdated info and discussed launch day issues.
October 31, 2020: Provided the actual benchmarks and compared them with NVIDIA cards.
October 30, 2020: Added features and additional specs, and discussed leaks and their accuracy.
October 29, 2020: Added the exact specifications and compared them to the competition.
October 28, 2020: Added official release dates and pricing.
October 24, 2020: Added the leaked benchmarks.
October 14, 2020: Removed outdated info and added new information and comparisons to the RTX 3000 series.
September 19, 2020: Changed the image to one showing an actual AMD Radeon RX 6000 series GPU and added leaked benchmarks.
September 18, 2020: Confirmed the launch date.
August 10, 2020: Added the Quadro competitor rumored release date and additional memory type clarification.
August 9, 2020: Added the speculated memory numbers as well as Navi 31 and Navi 41 rumors.
August 5, 2020: Added additional specification rumors.
August 3, 2020: Confirmed the 80 CUs number and clarified it.
August 1, 2020: Added new performance leaks and the rumored release date.
July 30, 2020: Addressed the rumors about AMD using HBM for RDNA 2.
July 26, 2020: Completed the section about the superiority over the RTX 2080 Ti with rumors about the RTX 3080's improvement.
Fans referred to this next-gen technology as 'Navi 2X' and 'Big Navi', with the latter name gaining so much popularity that AMD decided to adopt it.
With the release of the RX 6000 series, however, these GPUs certainly overwhelmed some of NVIDIA's GPUs in raw rasterization performance.
The key reason for the AMD RDNA 2 hype is that it was announced as part of the graphical architecture of the next-gen consoles: PlayStation 5 and Xbox Series X.
Here are the capabilities of the graphics cards inside the next-gen consoles.
Remember that this is only a glimpse of these consoles' capabilities. We might see something even more impressive in the future as games become increasingly well optimized for this RDNA 2-based platform.
Release Date
One crucial question lingered for a while: Would AMD RDNA 2 be released before or after the arrival of the next-generation gaming consoles?
"Development of our RDNA 2 GPUs continues to progress well. We are on track to launch our next-generation gaming GPUs later this year, with a 50% performance per watt increase compared to our current offerings."

In late April, during a Q1 2020 AMD earnings call, Lisa Su
As announced on October 28, 2020, both the RX 6800 and the RX 6800 XT launched on November 18, 2020.
This simultaneous launch allowed AMD to pull a great one-two punch on these cards' competitors – RTX 3070 and RTX 3080. The enthusiast-class RTX 3090 competitor, RX 6900 XT, launched on December 8, 2020.
With AMD's CPUs reigning supreme over Intel, it's safe to say that 2020 was the year of AMD's great awakening.
Price
One of the main points of interest for the AMD RDNA 2 was the possibility that it would go for the throat and begin a proper GPU war. But, to do that, competitive prices are needed:
Here's a list of the RDNA 2 prices.
| AMD GPUs | Price | Nvidia GPUs | Price |
| --- | --- | --- | --- |
| RX 6900 XT | $1,000 | RTX 3090 | $1,500 |
| RX 6800 XT | $649 | RTX 3080/Ti | $699/$1,199 |
| RX 6800 | $579 | RTX 3070/Ti | $499/$599 |
| RX 6700 XT | $479 | RTX 3060 Ti | $399 |
| RX 6600 XT | $379 | RTX 3060 | $329 |
| RX 6600 | $329 | RTX 3050 | <$249 |
| RX 6500 XT | $200 | N/A | N/A |
Overall, prices are competitive against Nvidia's lineup.
The best competition here is the RX 6800 XT, priced $50 less than the RTX 3080. But, the non-XT 6800 is $80 more expensive than the RTX 3070. Although we reckon the RX 6800 is more in line with the 3080 than the 3070. Another win there for AMD.
The RX 6900 XT also undercuts the RTX 3090 by $500. However, we don't really see the 3090 as a gaming card. That 24 GB of VRAM will be much more helpful in a productivity-related task.
The RX 6500 XT is the entry-level GPU at $200, but with unpromising specifications. Just 4GB of VRAM in 2022 is simply not enough. The RTX 3050 might be $50 more expensive, but it at least has 8GB of VRAM, and it is faster.
Specifications And Features
The most significant talking points regarding AMD's RDNA 2 architecture were its features, such as SAM, FSR, ray-tracing, and power.
But, before we look at the different features, let's look at the specifications.
| SKU | RX 6500 XT | RX 6600 | RX 6600 XT | RX 6700 XT | RX 6800 | RX 6800 XT | RX 6900 XT |
| --- | --- | --- | --- | --- | --- | --- | --- |
| Memory | 4GB GDDR6 | 8GB GDDR6 | 8GB GDDR6 | 12GB GDDR6 | 16GB GDDR6 | 16GB GDDR6 | 16GB GDDR6 |
| Memory Interface | 64-bit | 128-bit | 128-bit | 192-bit | 256-bit | 256-bit | 256-bit |
| Memory bandwith | 144 GB/s | 224 GB/s | 256 GB/s | 384 GB/s | 512 GB/s | 512 GB/s | 512 GB/s |
| Boost clock speed | 2815 MHz | 2491 MHz | 2589 MHz | 2581 Mhz | 2105 MHz | 2240 MHz | 2250 Mhz |
| Infinity Cache | 16 MB | 32MB | 32MB | 96MB | 128MB | 128MB | |
| Ray Accelerators | 16 | 28 | 32 | 40 | 60 | 72 | 80 |
| Stream Processors | 1024 | 1792 | 2048 | 2560 | 3840 | 4608 | 5120 |
| TDP | 107W | 132W | 230W | 230W | 250W | 300W | 300W |
| Launch Date | January, 2022 | October, 2021 | August, 2021 | November, 2020 | November, 2020 | November, 2020 | December, 2020 |
Ray Tracing
AMD finally became part of the ray-tracing hype, but their hardware implementation differs from Nvidia's.
Where NVIDIA has separate RT cores in charge of ray tracing performance, AMD tacked its ray accelerators onto each compute unit.
It would be misleading to claim that either method is inherently superior, but NVIDIA has a better ray-tracing solution based on the evidence we have seen.
However, we need to remember that NVIDIA has had two extra years to develop those ray-tracing capabilities fully.
In contrast, AMD's solution is still pretty young. In time, AMD will likely continue updating drivers to improve their ray-tracing power. Developers now also have access to these cards, which means they can further optimize their games for AMD GPUs.
Here's a comparison of ray-tracing enabled vs. disabled in Cyberpunk 2077.
Performance-Per-Watt Improvements
RDNA 2 is the successor to RDNA, which in turn is the successor to GCN. What allowed RDNA to be such a step-up was the alignment of wavefront size to SIMD size and the improvement in the efficiency department.
Part of the reason for this improvement was the switch from the 14nm process to 7nm.
This switch led to a 50% performance-per-watt improvement. In fact, the RX 6900 XT has 65% better performance-per-watt than the 5700XT.
One thing that's interesting to note here is that a leaked roadmap indicated that RDNA 3 will probably be on 5nm (or 6nm). In other words, we should expect another significant improvement in performance-per-watt.
VRAM
Interestingly, AMD uses 16GB VRAM across three cards. The RX 6800, RX 6800 XT, and the RX 6900 XT. The RX 6700 XT gets 12GB VRAM, while the 6600 XT and non-XT come with 8GB VRAM.
This also means we are getting 16GB/s of effective memory speed via a 256-bit memory interface and up to 512 GB/s of memory bandwidth.
Since NVIDIA arrived sooner on the market with the RTX 3000 Series, it's apparent that they regret their decision to go with such low VRAM capacity, hence the 12GB on the RTX 3060. This looks like a direct response to AMD's 12GB RX 6700XT.
The RX 6500 XT comes with a measly 4GB of VRAM, which is a bit disappointing considering that all previous GPUs came with more than enough VRAM.
Infinity Cache
During the RX 6000 reveal event, AMD's Senior Director Laura Smith announced this innovation due to AMD seeking to improve its image fidelity. She touted it as a "graphics-optimized, high-density, high-speed cache based on Zen 3 L3 cache".
Although it could be interpreted as a slight dig at RTX 3090, Smith claimed that Infinity Cache's 256-bit GDDR6 doubles the effective bandwidth of a 384-bit GDDR6 solution.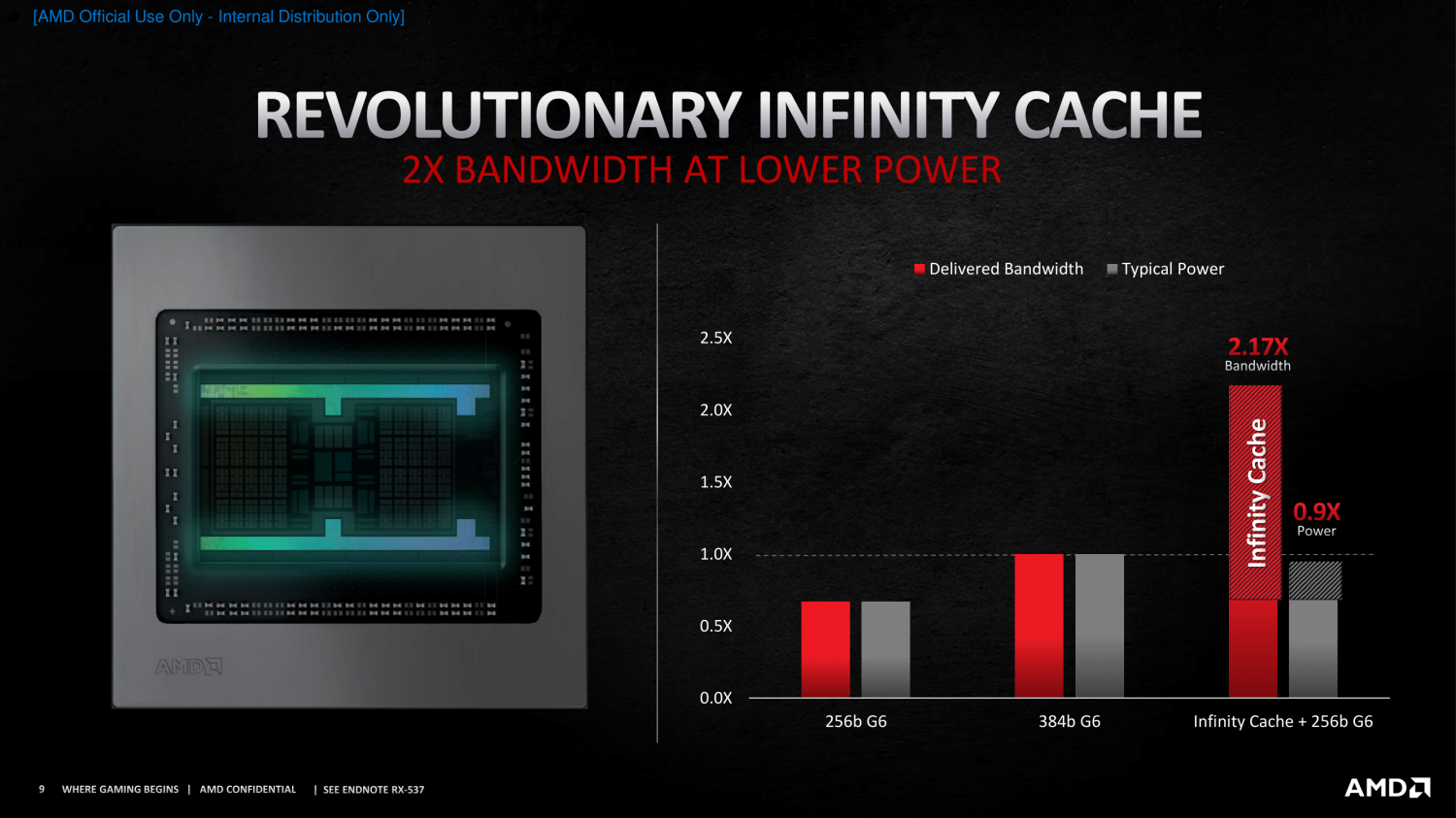 This is a marketing trick because RTX 3090 uses 384-bit bus width but on a GDDR6X memory.
AMD will enable 128MB across the three flagship graphics cards for Infinity Cache.
Rage Mode
This feature is being touted as a one-click overclocking tool built into the Radeon software. It promises to take advantage of every bit of overclocking headroom that is already built into the GPU.
Smart Access Memory
At first, this feature was exclusive to gamers who use a Ryzen 5000 series processor with a Radeon RX 6000 series graphics card, which allowed these two components to communicate more efficiently. That, in return, leads to an increase in performance.
AMD said that if you pair these two on its 500 series chipset motherboards, you will see as much as a 13% performance increase, which ended up being true. Some benchmarks showed even more impressive performance increases than that.
However, this feature is no longer exclusive to Ryzen 5000 CPUs and RX 6000 GPUs. NVIDIA has been working hard to bring Resizable Bar (Smart Access Memory is just AMD's name for it) and has been able to do so.

Even more interesting is that Resizable Bar now works with Ryzen 5000, Ryzen 3000, and Intel's 10th and 11th Gen CPUs.
However, we can't ignore that NVIDIA's gains are significantly lower than AMD's gains from SAM. Remember that further driver and BIOS updates could boost these performance increases.
RDNA 3? Refresh?
There have been sightings of a card with a Navi 31 code. Understandably, this brought everyone out to speculate.
Is this going to be the next generation, RDNA 3? Or is this going to be refreshed RDNA 2 GPUs with the rumored 3D V-Cache?
The refreshed RDNA 2 could continue with the same RX 6000 naming scheme or fall under a new name. The RX 7000 series.
Either way, both the refresh and RDNA 3 may put a lot of pressure on NVIDIA to retain its status as the leader in the GPU world.
Launch Day Issues
It appears that the world has a much greater need for new graphics cards than both AMD and NVIDIA anticipated.
AMD had issues with the availability of its cards after the launch day, just like NVIDIA, Sony with its PlayStation 5, and Microsoft with its Xbox Series X.
Finding an RX 6000 series card can be demanding, both in physical and digital stores.
This is happening to both NVIDIA and AMD because the demand for GPUs and CPUs considerably increased in 2020 and 2021, and it probably will be the same in 2022.
Market researchers have claimed that the PC industry saw a growth of about 11% in 2020 in comparison to 2019. The industry has not seen this kind of growth for decades.
Is AMD RDNA 2 Finally A Worthy Opponent For NVIDIA?
This is the key question. However, it's difficult to state that one is better than the other. We don't want to mislead you in any way, shape, or form, so we'll discuss the announced options for each performance/budget bracket.
RX 6800 vs. RTX 3070
First, let's talk about NVIDIA's GeForce RTX 3070 and AMD's Radeon RX 6800.
Based on these numbers (and plenty of others), this might look like an easy win for AMD but remember the negatives: the lack of solid ray tracing performance, DLSS 2.0, and a higher price tag.
RX 6800 XT vs. RTX 3080
The benchmark scores for NVIDIA's GeForce RTX 3080 and AMD's Radeon RX 6800 XT are pretty clear, so let's have a quick look.
Overall, it seems like these two GPUs perform very similarly. To determine a winner, buyers need to consider the price, ray-tracing performance, Smart Access Memory, FSR, and DLSS.
RX 6900 XT vs RTX 3090
Another Hardware Unboxed benchmark shows that the RX 6900 XT outperforms the RTX 3090 by about 8%. This is with an 18 game average.
This super high-end "attack" on NVIDIA was the breath of fresh air that the GPU world needed for a while. It remains to be seen if NVIDIA will slash prices on the RTX 3090 in response, but this feels like an overall AMD win.
RX 6700 XT vs 3070
The RX 6700 XT enters the market in the mid-range GPU sector.
Initially, this GPU was thought to be a competitor for NVIDIA's RTX 3060 Ti, but the performance numbers and $479 price tag place it closer to the 3070 instead.
In any case, let's see what the benchmarks can tell us about this card.
It's a bit of back and forth between the two, but overall, the RTX 3070 is 8% faster in 1440p tests. As a result, the 3070 seems like the better value card, even though it's a bit more expensive.
RX 6600/XT vs. RTX 3060/Ti
The RX 6600 XT and non-XT are the newest members of the RDNA 2 family that compete with the RTX 3060.
We can see from the benchmark above that the Radeon RX 6600 XT outperforms the 3060, but only by a small margin. On the other hand, the 3060 Ti is only $20 more expensive and performs considerably better.
The RX 6600 non-XT is in an even worse position. The RTX 2060 Super outperforms it, and the 3060 is considerably faster. We'll give this win to Nvidia.